Marcus Hooks – Guitar/Vocals
Logan Schumacher – Lead Guitar
Dan Stusiak – Drums
Will Elkins – Bass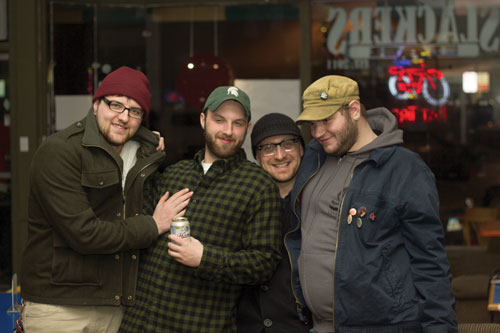 Honest Engine started as Marcus and Will playing the songs Marcus had written acoustically.  After a friend recommended Marcus get in touch with Dan Stusiak, they had a drummer.  They switched to electric and Marcus decided to step down as lead guitar and they brought Logan in to fill that role. Since then Honest Engine has been practicing, writing songs, and doing shows.
Primarily the band identifies as Rock and Roll musicians but Dan says, "there is elements of punk, elements of folk, elements of country, elements of rock and roll…" and Logan calls themselves, "Bruce Springsteen Punk." They aren't solidified into one genre, according to Marcus.
The band's influences are as diverse as their members.  As far as Rock and Roll, Dan is a big fan of Coheed and Cambria but he started playing drums from listening to hip hop in the 80's.
Marcus inspires to be a guitar player of Prince proportions, but he realizes his skills put him far below that mark. "I'm not fantastic, I can get the job done." boasts Marcus.  When it comes to his song writing, his influences are Springsteen and Frank Black from the Pixies.  By far his biggest influence is Paul Westerberg from The Replacements, "I look to them a lot for inspiration in anything, songwriting especially."
Will played bass in a Ska punk band for 5-6 years. He's always loved the crazy bass like Roger from Less than Jake and Joe Beatleman from the Mighty Mighty Bosstones. But Will's favorite band is AC/DC. "The whole reason I got into music was actually because of Angus Young of AC/DC."
In terms of skill, Will says, "I'm not the world's greatest bass player, but one thing I pride myself in, is that I play what the songs needs me to play." But Dan remarks than Will is, "The fastest finger playing bassist than I've ever played with…and I've played with some bass players."
Logan says, "The first music I ever listened to was Backstreet boys.  It's what made me want to sing." However, the 1950's rock of The Wonders, featured in the movie "That Thing You Do", was one step that got Logan playing guitar. "I've played in country bands before, I've rapped."
Honest Engine has some big plans for their future.  Marcus would like to hear themselves on a physical record, along with a digital release.  "We want to make a record, we want to play shows, we want to have a good time, we want to make this as positive of an experience as possible, not just for us but for everyone who's kind enough to show up." "I get the impression that playing music is the one thing that has remained a constant for the majority of our lives and if we can continue to do that, then it's all gravy."