The Gonzo Five is a five piece band composed of two guitars, bass, drums, trombone, and vocals. The sound presented by the group truly reflects the essence of the name, which refuses to conform to any single style or normality. Using pulsing, powerful, and intensely rhythmic grooves, as well as progressive melodies and style changes, the Gonzo 5 have forged an energetic and melodic sound that is truly original. Bouncing between elements of funk, progressive-rock, dance, ska, and reggae, the group manages to touch several styles and feels, while still maintaining an overall sound.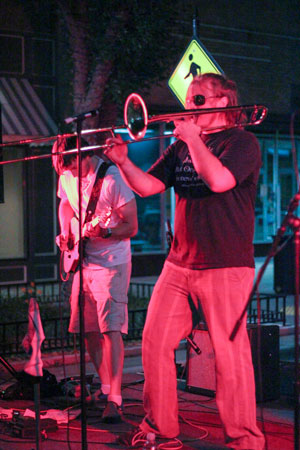 The Aberdeen based band, Gonzo 5, was formed in 2008. After meeting at a party, the group started to jam together and finally became an official band.  They spent about a year with their original lineup but after losing keyboards in 2009, the band added trombone to their sound and brought in a new drummer.  This change brought a new punchier, and more melodically active, sound that has made them one of the most beloved local bands.
While the band is based in Aberdeen, only Gabe and Brady are originally from here.  The twins, Chad and Craig Voight, are from Watertown and their drummer, Roger, is from Seattle, Washington.
What makes Gonzo 5 special?  It might be their unspecific kind of music, that they define as Progressive Revolution Rock but can range from Electronica to Reggae from one song to the next.  That's not surprising with a list of influences including Pink Floyd, Radiohead, Led Zeppelin, The Red Hot Chili Peppers, Tool, and Phish.
For a smaller band, Gonzo 5 boasts a large collection of original songs that include intense runs and grooves, as well as ambient, and progressive melodies.  Their unique and sometimes psychedelic beats have been proven to get their fans on their feet and dancing.
The band will be playing through Minnesota and in Aberdeen throughout the year.  Until their next show, you can hear their songs on their Myspace page at myspace.com/gonzofive or you find them on Facebook.